Dubbo Christian Preschool
Director's Heart
Welcome to the Dubbo Christian Preschool web page!
When choosing a service for your child it is important that you know who we are and what we believe. We are a Preschool that nurtures children through all aspects of their life: social, emotional, physical, and cognitive development, and most importantly, their spiritual development. We believe we are all God's perfect creation and His word guides us each and every day.
We currently operate three rooms for children aged 3- and 4-years-old. We have dedicated staff that encourage strong foundational learning through a play-based environment. Children are free to choose and extend their interests in a space that encourages risky play while being under the safety of full supervision.
As a director, I am very passionate about supporting and resourcing staff to cultivate a place where children become investigators, use trial and error processes, build resilience and independence as they grow and develop into young people ready to confidently move through school.
Our service loves the inclusion of community. God created us for relationships and we all have so much to offer each other through our gifts and knowledge. If you feel you would like to be a part of our community, why not phone and come in for a closer look? 
We look forward to meeting you.
Mrs Michelle Broadley
Preschool Director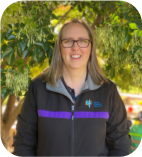 Mission
To provide foundational play-based learning filled with Christ's love and teaching.
Core Values
Community
Authentic
Foundational
About Dubbo Christian Preschool 
Dubbo Christian Preschool is committed to nurturing young children in a biblical foundation. Carefully planned teaching and learning experiences strengthen a rich foundation between home and preschool for our Pebbles (3 year-old) and Prep (4 year-old) children prior to entry into Kindergarten. Our Educators design learning experiences around each child's interests and with connections to the outcomes from the departmental Early Years Learning Framework (EYLF). 
At our Preschool, children are taught about the life of Jesus and his teaching for everyone 'to love one another'. In this way, Jesus is made known to the very youngest of our children and hope is implanted right from the start.
Dubbo Christian Preschool is situated in close proximity to the K-2 section of Dubbo Christian School. This enables Prep children to participate in appropriate community and Kindergarten experiences which assist the transition to Early Stage One. Likewise, valuable information about each child is recorded and conveyed to future educators.

The National Quality Standard (NQS) is a key aspect of the National Quality Framework (NQF) and sets a high, national benchmark for early childhood education and care, and outside school hours care services in Australia. The Dubbo Christian Preschool program has been approved by the Department of Community Services since 2014 as having achieved an overall rating of Meeting NQS.
Our Preschool operates across three classrooms: 
Prep (4 year-old program) 2 & 3 day programs
Pebbles (3 year-old program) 2 day program
Preschool operates from 8:30 am to 4:00 pm each day. 

Enrolment Information
Please see documents below for information about enrolling your child at Dubbo Christian Preschool, and feel free to contact us via the contact form, calling (02) 6882 0205 or by emailing preschool@dubbocs.edu.au
if you have any questions.
Please complete an online Application form and submit this along with a copy of your child's birth certificate, immunisation records, visa (if applicable), Health Care Card (if applicable) and any other required documentation, and a $50 administration fee.
We will then contact you for the next steps.
Preschool
Application to Enrol
Fees
Fees for DCP are $30 per day"
Important Fee Notice for 2023
The NSW Government has announced that they will be introducing a new Start Strong Affordable Preschool Initiative for 2023. This funding will provide a subsidy for both Prep and Pebbles programs for children attending 2 or 3 days per week.
If you have any questions about this, please contact our Fees Department at fees@dubbocs.edu.au or on (02) 6882 0205.
Preschool Uniform
Pebbles children are not required to wear a uniform, however sensible play clothes meeting Sun Smart regulations and closed-in shoes are to be worn. Children are provided with a Dubbo Christian Preschool hat. 
Prep children are required to wear a low cost uniform which can be purchased from the
Dubbo Christian School Uniform Shop.  
Please see the documents below for more information about the Prep uniform. 
Preschool
Uniform
Description
Uniform
Description
Download
Preschool
Uniform
Price list
Preschool
Uniform Price list
Download
Contact Dubbo Christian Preschool